Firefly Foot & Ankle Clinic patients have been experiencing the benefits of Shockwave Therapy since the treatment was introduced to all six of Firefly clinic locations across Ireland. Shockwave therapy is also known as extracorporeal shock wave therapy. 
Shockwave therapy is used to treat painful tendons in conditions such as plantar fasciitis or achilles tendonitis. The treatment is not limited to the lower limb but can be used on painful tendons and major joints across the body including ankle, knee, hip, elbow or shoulder.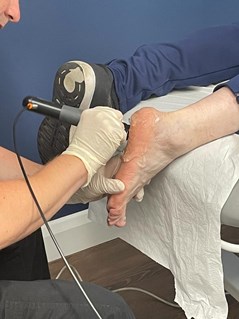 Shockwave Testimonial 
My foot was in a lot of pain causing me to reduce my daily walking. My son suggested I visit Firefly Foot & Ankle Clinic to have my foot orthoses reviewed. I made an appointment with podiatrist James Ryan for 19th May 2022. James arranged for my orthoses to be refurbished and he suggested I book an appointment for shockwave therapy to treat the pain in the bottom of my foot. Following 6 sessions with Oliver McGeehan I'm 99% pain free and back to my daily walking. So thanks to James and Oliver!  - J. Quinn [Sligo]
Book Your Shockwave Appointment
To find out more about our Shockwave therapy or to book an appointment in one of our six clinic locations around Ireland, phone 01 9696 055 or email [email protected]. For more on Shockwave therapy at Firefly, click the button below.
Shockwave Therapy